Specialized Storage Solutions
MWS has built Hundreds of Lumber Yard Storage Systems from pallet rack to cantilever and bundle storage. We can Design and Build a Stand alone outdoor or indoor racking system for your lumber yard staff or retail access as well. Cantilever is most common for long length and heavy and full bundles, choose board racks for open bundles and Selectivity and small order picking.
MWS has offered endless Gondola Shelving Solutions for Retail & Grocery. Whether your looking for Basic White Gondola Shelving or Special Company Paint Colors, Slat Wall or Displays, we can provide the Layout Consultation and Installation Service to complete your project.
If you are building a new facility or need to replace your current In-Floor Maintenance Truck service pit, we can design a safe productive pit mounted catwalk to improve your shop efficiency and profitability. 
For storage of Tools & Equipment the Solutions are Endless from Cabinet Drawer Storage to Steel Wall Panel Peg Board organizers and hooks, we can find the right equipment to get your shop organized.
The "A" frame style reel racks are super strong and versatile. The, all-welded, upright is heavy duty and the beams attach quickly to uprights using tear drop design.
Reel racks make storage and retrieval of wire, cable, hose, chains, rope, or any other coiled material effortless. The adjustable axles allow storage for multiple types of spools on the same rack to save space and prevents the need for workers to lift heavy spools or reels to retrieve products.
We will help you determine the right Size, Capacity and Style for your storage facility.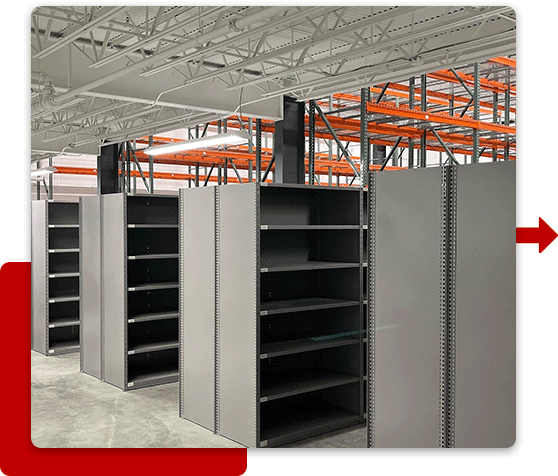 As more Marine Businesses offer Seasonal Dry Boat Storage and rising construction costs for new buildings, it's more important to look for improved storage density and utilize vertical space to it's fullest. MWS will work with you to determine the most economical storage opportunities for your facility.
We have Electrical Supply Companies to Municipalities warehousing bulk wire reels. Yard storage is most common, but for pulling orders or Emergency needs, those top movers requires unique storage for locating and accessing in timely manor.
We will help you determine the right Size, Capacity and Style for your storage facility.
Over the Dock Pallet Rack Storage is not uncommon in the Cold Storage Industry, whether you are looking for floor supported or ceiling hung, MWS can provide the Design, +Equipment and Turn-Key Installation for your project.
Textile, Carpet &
Pipe Storage
Our adjustable racking can accommodate various lengths and diameters of textiles, carpet, roll goods and similar materials offering damage free storage and good selectivity when the item is needed from the warehouse.
We will help you determine the right Size, Capacity and Style for your storage facility.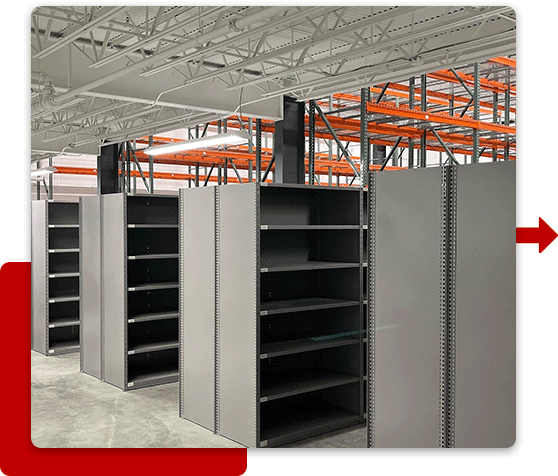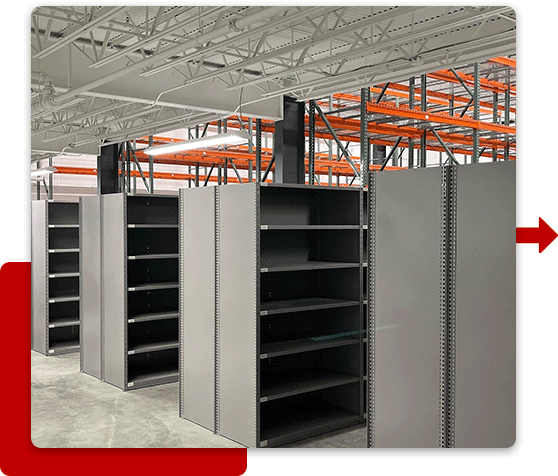 Free Standing Wire
Security Enclosures
Endless free standing and column supported safety enclosures for warehouse small parts storage, school gymnasiums & gear storage. We also can protect walk aisles in the warehouse by installing wire mesh on the back of pallet rows.
Storing and picking iron bars, pipe and raw materials safely and efficently. Often customer are looking for better ways to organize, store, improve inventory control and reduce handling in the workspace. Roll Out Cantilever racking is perfect to free up floor space and provide full access to each desired product. The rack system is fully adjustable on 3″ centers, allowing adjustment as product bundle heights change.
We will help you determine the right Size, Capacity and Style for your storage facility.